Vera Coelho
Deputy Vice President
Executive Committee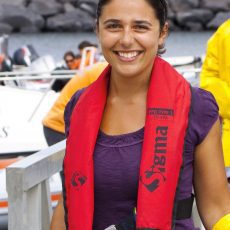 Vera Coelho is Oceana's Senior Director, Advocacy in Europe. She leads the organization's campaigns and Oceana's policy, communications and science work in Europe.
Vera is a political scientist with 15 years of experience working with national, European and global environment NGOs to protect freshwater and saltwater ecosystems. She is intimately familiar with EU decision-making processes and what it takes to successfully implement EU campaigns to achieve measurable conservation impact.
Vera grew up in Portugal, where the mighty Atlantic is wild and cold, and the coast is windswept and beautiful. Her early childhood memories include hot sunshine and cold ankles when entering the water, and her parents' advice to always respect the ocean – and not turn her back on it.
Before joining Oceana in April 2020, Vera worked with The Pew Charitable Trusts to secure EU support and leadership relating to marine conservation and fisheries management. Before that, she worked with Wetlands International and with Seas At Risk to develop and implement advocacy strategies regarding the adoption of EU environmental legislation, fisheries policy and regulation, and international treaties and agreements on climate and biodiversity.
A committed European, Vera has lived, studied and worked in six European countries and speaks five languages. When she is not advocating for policies to protect and restore the biggest ecosystem on earth from damaging human activities, she can probably be found reading contemporary fiction by female authors.