Ted Danson
Board of Directors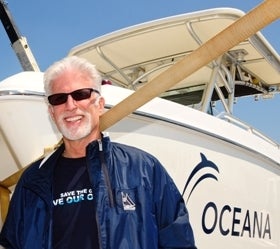 To most, Ted Danson is known for TV and movie acting roles, but for those in the conservation movement, he is much more famous for his work as a passionate ocean advocate and Oceana spokesman.
The son of an archaeologist and anthropologist, Ted grew up understanding that cultures leave an imprint on the Earth and that some legacies are indelible, for better or for worse.
Despite growing up in landlocked Flagstaff, Arizona, Ted grew an affinity for the water through years of routine pilgrimages to visit family in California. His call to action came years later, during his tenure as Sam Malone on "Cheers," when living in Santa Monica he saw a sign at the beach reading, "Water polluted, no swimming."
"Trying to explain that to my kid was hard," he remembers, "It got me questioning a lot of things."
Shortly thereafter, Ted met environmental lawyer Bob Sulnick and become involved in a movement to prevent digging for oil wells in Santa Monica. Buoyed up by the victory, Danson accelerated his involvement by helping create the American Oceans Campaign in 1987, which eventually became Oceana in 2001.
In the last two decades, Ted's stellar acting career has been complimented by his staunch ocean advocacy, appearing in public service announcements, appealing to donors and testifying to the government on the condition of our oceans. He currently sits on Oceana's Board of Directors where he and his wife, actress Mary Steenburgen, continue to fight on our oceans' behalf.
More about Ted Danson:
Ted Danson's book, Oceana: Our Endangered Oceans and What We Can Do to Save Them
Ted testifies on offshore drilling
Ted talks overfishing on CNN.com