For the first time, Peru condemns criminals who trafficked with shark fins
febrero 8, 2022
Ubicación: Peru, Lima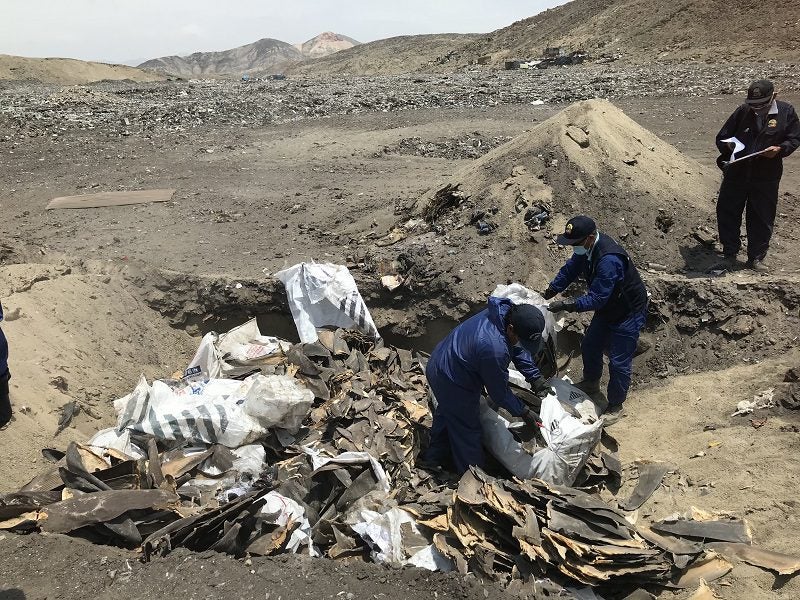 Oceana identified the fins seized in a shipment of 51 bags in April 2018.
It is the first effective sentence achieved by the Specialized Prosecutor for Environmental Matters for trafficking in hydrobiological resources in Peru.
LIMA, Peru 2022. — The illegal trafficking of wildlife, including aquatic species, is the fourth most lucrative illegal activity in the world and represents between $4,200 and $9,500 million dollars annually. During 2020, at least 28 tons of shark trunks, 2,300 kilos of fins and 117 kilos of seahorses were seized in Peru.
On Wednesday, February 2, after four years of investigation, one of the most emblematic cases in the fight against shark fin trafficking came to an end. The Fourth Criminal Court of the Superior Court of Justice of Santa issued four and a half years of imprisonment and a civil compensation of S / 106,375 soles against the deputy manager of the company AJANSA PERU (owner of the shipment), and the buyer Poly Diks Pinto Gonzáles for the crime of illegal trade in shark fins. The main stop of this illicit was Lima, from where they would be exported as legal to Hong Kong.
This is the first effective sentence for trafficking in hydrobiological resources in Peru and sets a very important precedent in the fight against trafficking in aquatic species. Oceana participated in the investigation by identifying the seized fins, many of which belonged to 2,000 sharks from at least six threatened species with restrictions for international trade, as well as various types of thresher sharks and hammerhead sharks.
For the prosecution of this crime to translate into more effective sentences, illegal wildlife trafficking must be included in the Law against Organized Crime. There are three bills that seek to achieve this goal, which will provide judges and prosecutors with better investigative tools and help dismantle criminal networks. Among them, «the intervention of communications, the participation of undercover agents, the lifting of banking secrecy, the lifting of the tax and stock market reserve, monitoring and surveillance, and the seizure of the proceeds of the crime without the authorization of the prosecutor or judge», points out Carmen Heck, Policy Director of Oceana in Peru.
Visit peru.oceana.org to know more.
Follow us on: